Ref:
Date:
Location:
Photographer:
Ref:
Date:
Location:
Photographer:
Weddings
concept

design

create
Flowers are an integral part of your wedding day, they should say something about you!
Designs can be created from your ideas and plans making use of subtle, fresh or vibrant colours, they should enhance their setting and create atmosphere, making use of themes, seasonal flowers, natural materials or quirky accessories.
I am lucky to have worked in some fantastic locations from castles and country houses to barns and meadows in the Yorkshire Dales! the more unusual the better - I like a challenge......
I try to incorporate a unique design feature where possible - have a look at my theme ideas on Pinterest
Link text here...
Woodland Dream, Shoreline, Vintage Style, Perfect Preppy, Barn & Meadow.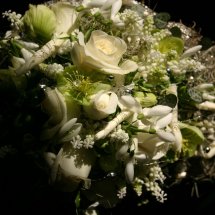 Contacting me
Please contact me through the contact page or give me a call - for availability, further details and queries.
I can travel to most places.
Once you have booked the date I will usually visit you around 4 months before the wedding to go through all your requirements.
Generally much of this can me done via email - I can send pictures and quotation this way and also set up a pinterest board to help visualize your ideas so if you live a long way from me it makes it easy. I have dealt with clients as far away as New York and Dubai!!
Lucy on 07958 957285